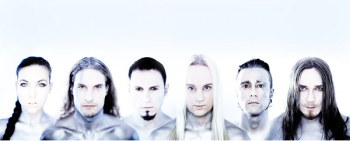 Amaranthe are back in the U.S. for a tour with their labelmates in Santa Cruz, and they have dropped their new video for Digital World, the second single from the well-received new albumMassive Addictive. 
Digital World follows the catchy first single Drop Dead Cynical, which received the best international radio airplay in the band's career.
"Digital World follows up the overwhelmingly successful Drop Dead Cynical, which charted high on radio and single charts all over the world, to our massive excitement! It has even been a staple song for the Detroit Red Wings NHL games!," the band said. "However, we're back with what is probably our best and most well-produced video to date, and most importantly a song that is already a fan (and band) favorite. It will also serve as the perfect prelude to our North American tour, which starts the same week."
Amaranthe's latest album Massive Addictive came out October 20, 2014 via Spinefarm Records. The album was recorded at Hansen Studios in Ribe, Denmark with sound sorcerer Jacob Hansen (Volbeat, Epica etc.) at the helm.