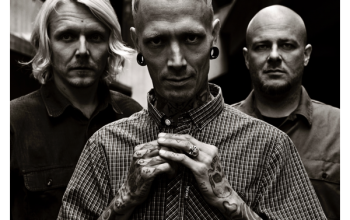 Helsinki's masters of melancholic rock, AT THE HOLLOW debut the video for "Numbed" – taken off their exceptional debut album "What I Hold Most Dear" which came out in February this year.
At The Hollow is a trio raised on a plethora of influences ranging from metal to classical music and grunge to contemporary electronica. The band consists of a guitar-playing vocalist, percussionist wielding exotic instruments like timpani and glockenspiel and a contrabass player armed with a bow. Following the vision and wistful, pensive sound of singer/guitar player Kalle Koo, At The Hollow forms a sound completely their own and are a mesmerizing listen.
A prime example of their uncanny knack for rending heartstrings and stopping the audience on its tracks, the "Numbed" video manages to haunt you and move you to the edge of tears at the same time.
After such a remarkable debut album and critical triumphs already under their belts, things certainly are looking up for At The Hollow, who will be playing in support of the masters of emotional music, Anathema, and progressive metal giants Dream Theater in Helsinki's Ice Hall on August 2nd.
At present, At the Hollow's music is the product of plain life, death, burn out, recovery, rehearsing, recording, more rehearsing, playing live and a shared passion for playing this type of music. That dedication ripples through every note and every chord of "What I Hold Most Dear".