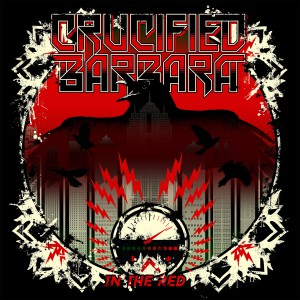 Vanaf de eerste tel dendert Crucified Barbara door de woonkamer. Vol gas, vol overgave, vol energie.
Dit is geen meidengroepje, hier staat een rockband.  De vierkoppige hardrock band uit Zweden bestaat uit zangeres/gitariste Mia Karlsson, gitariste Klara Rönnqvist Fors, bassiste Ida Stenbacka en drumster Jannicke Lindström. Op hun vierde album laten ze horen waar ze goed in zijn, medogenloze hardrock. Het eerste nummer I Sell My Kids For Rock'n Roll zegt genoeg over de instelling, niet lullen maar spelen. Electric Sky is een heerlijk nummer, een stuwende beat, strakke melodielijnen en een refrein dat door het volledige publiek bij live shows meegebruld kan en zal worden. The Ghost Inside, Don't Call On Me, de band blijft in de hoogste versnelling doorgaan zonder dat het ook maar één meoment eentonig of vervelend wordt. Strak geproduceerd zet de band het ene na het andere juweeltje neer. Beukende drums, een pompende bas en gierende gitaren, wat wil je nog meer?
Ook live heeft de band haar sporen reeds verdiend als support act van onder andere Sepultura, Motorhead en Backyard Babies. Over dit album kan nog veel meer geschreven worden, maar deze moet je gewoon horen.