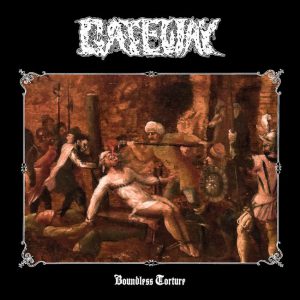 Gateway is het doom-deathproject van de Belg Robin Van Oyen. Zijn nieuwe album Boundless Torture is een vat vol aanhoudend beukende en soms atmosferische doom-metal, tristesse en diepe deathgrunts.
Gateway is een eemans-studioband, maar Boundless Torture is niet het debuut. Van Oyen bracht zijn eerste opnames vooral uit in eigen beheer. Enkel Scriptures Of Grief kwam vorig jaar uit via het cassettelabel Sentient Ruin. Voor Boundless Torture vond hij onderdak bij Pulverised Records uit Singapore, wat op zich reeds een erkenning is van de kwaliteit die Gateway brengt.
Het beste nummer op dit album is zonder meer Odyssey Of The Bereaved: een epische track van meer dan tien slepende minuten waarop Van Oyen al zijn doom-duivels ontbindt en met passages die soms aan een huwelijk van sludge en atmosferische blackmetal doen denken. Ook titeltrack Boundless Torture en Famished Below zijn prima doom-deathtracks. Het korte en voor dit album opvallend snelle Iron Storms past met die hakkende drums niet in het rijtje, maar daar heeft Van Oyen vast wel een verhaal bij.
https://www.facebook.com/gatewaydeathdoom