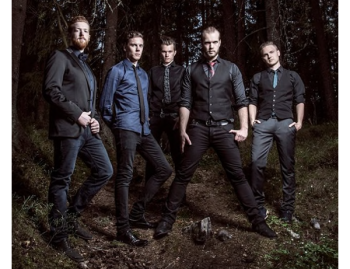 Norwegian progsters LEPROUS have wrapped up work for their newest studio album, which follows up 2013's acclaimed Coal release. The album will be entitled The Congregation and will be released on May 25th in Europe and June 2nd in North America via InsideOutMusic.
LEPROUS vocalist and keyboard player Einar Solberg about the new album: 
"This has without doubt been the most challenging album to write so far, if you count the amount of hours, blood, sweat and tears behind it. Which makes me extra proud to just have delivered the master of what I consider to be the most daring, technical, fresh and mature album we've ever done. The music of "The Congregation" is mostly written by me on my computer, so that I this time around could use my ears instead of my knowledge as the main writing tool. If you use your knowledge and your usual methods to write every album, you will eventually find yourself stuck in a quagmire of old habits. Lyrically "The Congregation" covers the dangers and consequences of blindly following the flow, thus the album title will speak for itself."
LEPROUS have recorded the drums, guitars and bass for their new album in Sweden's Fascination Street / Ghostward Studios with David Castillo (Katatonia, Opeth) and the vocals together with Heidi Solberg Tveitan & Vegard Tveitan at Mnemosyne Studios in Norway. Just like the preceding albums Bilateral and Coal, The Congregation was mixed by Jens Bogren at Fascination Street Studios (Opeth, Symphony X, Kreator).
Next to some previously announced festival appearances and the newly added show at Fortarock in The Netherlands in June, LEPROUS are now revealing the first dates for their extensive European headlining tour in support of The Congregation for September-October, alongside Rendezvous Point and another yet to be announced main support act. 
LEPROUS European tour 2015:
Fri. 25.09.2015 Bergen (Norway) – Garage
Fri. 02.10.2015 Copenhagen (Denmark) – Forbraendingen
Sat. 03.10.2015 Cologne (Germany) – Euroblast Festival
Sun. 04.10.2015 Baarlo (The Netherlands) – Progpower Europe
Mon. 05.10.2015 Paris (France) – Le Divan Du Monde
Tue. 06.10.2015 Nantes (France) – Le Ferrailleur
Thu. 08.10.2015 Lisbon (Portugal) – RCA club
Fri. 09.10.2015 Madrid (Spain) – Caracol
Sat. 10.10.2015 Murcia (Spain) – Garaje
Sun. 11.10.2015 Barcelona, (Spain) – Apolo 2
Mon. 12.10.2015 Lyon (France) – Ninkasi Kao
Tue. 13.10.2015 London, (UK) – Garage
Wed. 14.10.2015 Manchester (UK) – Ruby Lounge
Thu. 15.10.2015 Bristol (UK) – The Fleece
Fri. 16.10.2015 Maasmechelen (Belgium) – Jan Hertog
Sat. 17.10.2015 Karlsruhe (Germany) – Substage
Mon. 19.10.2015 Milano (Italy) – Legend Club
Sat. 24.10.2015 Bratislava (Slovakia) – Majestic Club
Sun. 25.10.2015 Prague (Czech Republic) – Nova Chmelnice
Mon. 26.10.2015 Warszaw (Poland) – Progresja
Tue. 27.10.2015 Riga (Latvia) – Rockcafe
Wed. 28.10.2015 Helsinki (Finland) – Nosturi
Fri. 30.10.2015 Stockholm (Sweden) – Bryggarsalen
Sat. 31.10.2015 Oslo (Norway) – John Dee
More dates to be added soon!
LEPROUS – Live at European Festivals 2015:
Fri. 05.06.2015 Nijmegen (The Netherlands) – Fortarock Festival
Sat. 11.07.2015 Barcelona (Spain) – BeProgMyFriend Festival
Sat. 03.10.2015 Cologne (Germany) – Euroblast Festival
Sun. 04.10.2015 Baarlo (The Netherlands) – Progpower Europe
A promotional video clip for the track "The Cloak" off the previous LEPROUS album Coal can be seen here.