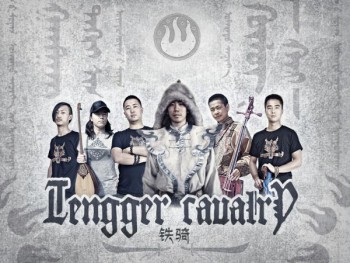 Music's most inspiring attribute is in its transcendence of national and international boundaries, and nowhere is this more apparent than with Mongolian folk metallersTengger Cavalry, set to release their fifth album Blood Sacrifice Shaman on May 18 via Metal Hell Records.
Have a listen to the band's self-titled song and first track from the album here: https://tenggercavalry.bandcamp.com/album/blood-sacrifice-shaman
An exhilaratingly unique sound, Tengger Cavalry infuse heavy metal with traditional Mongolian folk and primal Shamanistic musical tradition, including chanting and the Shaman bell.
A symphony of diverse ethnic musicality and exploration, Blood Sacrifice Shaman is the next step in the evolution of the first Mongolian metal band. This is the album which takes the band full circle, as it includes as a bonus track Tengger Cavalry's very first song, recorded in 2009, representing the original hybrid philosophy behind the band.
The brainchild of composer, guitarist and vocalist Nature Ganganbaigal, Tengger Cavalryare now in their fifth year, having previously released an album per year. A band who have opened for Turisas as well as playing Beijing and New York's Strawberry Music Festival,Tengger Cavalry are a truly unique and exciting prospect in the world of international metal.