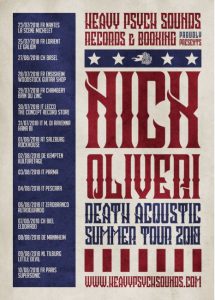 Nick Oliveri komt op 9 augustus naar Tilburg voor zijn Death Acoustic-tournee.
Oliveri is het beste bekend als de bassist en/of frontman van een aantal legendarische bands, vooral in het stoner-genre: Kyuss, Queens of the Stone Age, the Dwarves, Kyuss Lives!,Vista Chino en Mondo Generator.
In de Little Devil in Tilburg zal de show in het teken staan van zijn recente solo-album No Hits At All Vol. 4, al zal hij ook veel ouder werk brengen.