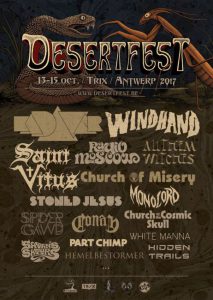 De organisatoren van het Antwerpse Desertfest hebben vier nieuwe namen toegevoegd aan de affiche: Conan, White Manna (cosmic noise), Stoned Jesus (doom) en Spidergawd (classic rock). De Britse doommetalband Conan stond in 2014 reeds op Desertfest in Antwerpen.
Eerder bekendgemaakte namen zijn Kadavar, headliner Church of Misery, Monolord, Church of the Cosmic Skull, All Them Witches, Saint Vitus, Satan's Satyrs, Hidden Trails, Windhand, Radio Moscow, Part Chimp en Hemelbestormer. Kadavar brengt in September een nieuw album uit.
Desertfest wordt georganiseerd in Muziekcentrum Trix in Antwerpen (België) op 13, 14 en 15 oktober.