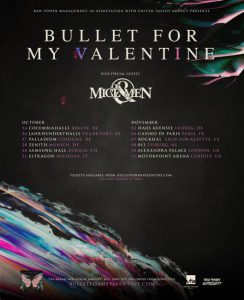 Gisteren wisten we op onze site al te vermelden dat Bullet For My Valentine de Europese tour start. Of Mice & Men staat daarbij in het voorprogramma. De band, die in januari van dit jaar het uitstekende album Defy uitbracht, heeft nu de video van Instincts online gezet.
"We're stoked to be releasing our music video for 'Instincts'. Filmed during our most recent trips to Australia and Japan, the video showcases the raw intensity that we've seen this song bring to crowds all over the world. When the idea for doing a video for the song came up, we collectively decided that the only way we could do it justice was to show this song's live power, and here it is. Turn it up, and bang your head!" says singer Aaron Pauley.
Je kunt Of Mice & Men samen met Bullet For My Valentine op 8 november zelf aanschouwen in 013.