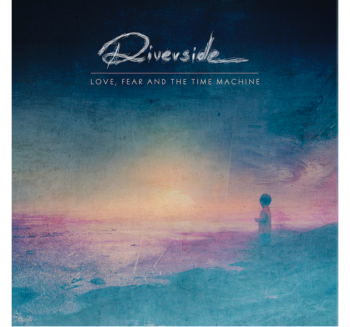 Having just played a first post-studio live-show as part of the Metal Hammer Festival / Prog Edition in Kattowice, Poland together with Dream Theater this past weekend, polish prog masters RIVERSIDE are pleased to announce the first details for their much anticipated upcoming studio album.
Entitled "Love, Fear and the Time Machine", the band's sixth studio longplay album will be released via InsideOutMusic on September 4th, 2015, feature cover artwork by longtime design-partner Travis Smith / Seempieces (Katatonia, Opeth, Nevermore, etc.) and contain the following track listing:
Lost (Why Should I Be Frightened By a Hat?)
Under the Pillow
#Addicted
Caterpillar and the Barbed Wire
Saturate Me
Afloat
Discard Your Fear
Towards the Blue Horizon
Time Travellers
Found (The Unexpected Flaw of Searching)
RIVERSIDE are additionally working on a musical bonus package entitled "Day Session", the brighter companion of the "Night Session" presented on the band's previous album "Shrine Of New Generation Slaves".
RIVERSIDE's Mariusz Duda checked in with the following comment about "Love, Fear and the Time Machine":
"On the new album I wanted to combine the 70s and the 80s. The 80s were a decade of musical growing up for me. On the new album we don't sound as retro and 70s as before, we moved forward, we sort of demolished the previous foundations and build new ones. Despite the huge dose of melancholy and nostalgia, there is a new space, the songs are arranged with more flow and at the same time they have never been so concise and to the point before. The lyrics on "Love, Fear and the Time Machine" talk about a transformation. About making an important, perhaps life changing, decision everyone has to make at some point in their lives. What happens to us when we have to make it? On the one hand we're excited by the change, we feel free, liberated, and on the other we fear the unknown, we are afraid of what might happen to us. We go back in time and we go forward in time in our heads. And all that happens when we have to decide something important. The first of the songs on the album is called 'Lost', the last one, 'Found'. If we sometimes get lost in life, it is to go through something and be found again on the other side, to be reborn as someone better and more valuable. I would like this album to be one of those that one day simply becomes your best friend."
RIVERSIDE summer festivals (*) and "An evening with" headline shows:
July 24 The Netherlands, Zoetermeer, De Boerderij
RIVERSIDE European Tour with special guests The Sixxis and Lion Shepherd:
Oct 17 The Netherlands, Zwolle, Hedon
Oct 18 The Netherlands, Tilburg, 013