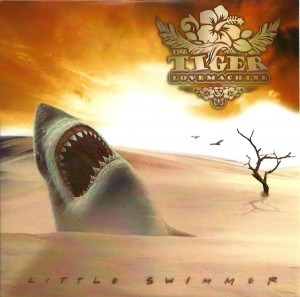 Country-grunge uit Zwolle. Ik weet niet of de muziekterm al officieel bestaat, maar dit dekt wel de lading.
Het zes nummers tellende debuut van de Zwolse band The Tiger Machine is op vinyl en cd verkrijgbaar. De band omschrijft haar muziek als Cowboy Grunge Rock. Zanger-gitarist Ido Stoter, gitarist-zanger Eggie Braakmans, drummer Rick Strik en bassist Hans Otten hebben een geweldig debuut gemaakt. Tijdens de eerste tonen denk je nog dat de cd een foute grap is, maar dan barst het geweld lost. Openingsnummer Buckshot Roberts laat misschien nog niet horen wat de band allemaal kan, maar in Sunset Bombers en Pinebox wordt je op het juiste spoor gezet. Grunge, zoals het klonk tijdens Nirvana's hoogtij dagen met hier en daar een vleugje country. Net genoeg, absoluut niet overheersend en het draagt zeker bij aan de sfeer van het album. Bij Desert Fish krijg je zelfs heel even de illusie dat Kurt Cobain een bijdrage levert.  De laatste twee nummers zijn Recycle The Cat en Little Swimmer.
De cd is in eigen beheer opgenomen en geproduceerd door Jan Kooiker (The Information).