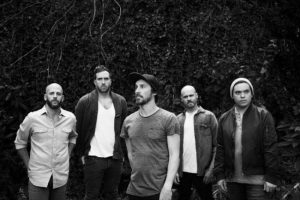 10 Years, de rockband uit Knoxville, Tennessee heeft aangekondigd weer naar Europa te komen voor een tour. Het was voor het laatst op het Downloadfestival in 2006 dat de band Europa aandeed. De tour staat in het teken van het album (how to live) As Ghosts dat in oktober 2017 bij Mascot Label Group uitkwam.
Eerdere dit jaar was de band op tour in Canada met Shinedown en In This Moment. 10 Years stond daarnaast reeds op het podium met A Perfect Circle, Stone Temple Pilots, Black Stone Cherry en Seether.
Guitarist Matt Wantland said, "I'm genuinely excited to get back to Europe; we haven't been able to make the journey since around 2008. So much of my favorite music and culture was born, and lives, in that part of the world. I want to share in that energy, and I want them to share it back with us. Travel and new experiences are what help you grow as a human being, as a person, and as a band I don't think there's a better opportunity than this to grow personally and professionally and to push us to a new level. We've always felt Europe is a place we should be spending more of our time."
The first single from the album, 'Novacaine,' has received over 4.8 million plays on Spotify, with the combined streams for the album exceeding 10.5 million streams.  The video has been viewed over 1.3 million times and was playlisted at Scuzz and Kerrang TV in the UK. With the release of this video, and over half a million streams to date, 'Burnout' follows in its footsteps to being on its way to becoming a global hit.
Tijdens de tour zal 10 Years Rotterdam aandoen op het Baroeg Open Air festival
Tue 4 Sep – The Underworld, London, UK – TICKETS
Wed 5 Sep – Corporation, Sheffield, UK – TICKETS
Fri 7 Sep – Lincoln Imp, Scunthorpe, UK – TICKETS
Sat 8 Sep – Factory, Manchester, UK – TICKETS
Sun 9 Sep – Craufurd Arms, Milton Keynes, UK – TICKETS
Mon 10 Sep – Broadcast, Glasgow, UK – TICKETS
Thu 13 Sep – Matrix, Bochum, DE – TICKETS
Sat 15 Sep – Baroeg Open Air, Rotterdam, NL – FREE
Mon 17 Sep – Sala Nazca, Madrid, ES
Tue 18 Sep – Boveda, Barcelona, ES
Tue 25 Sep – Headcrash, Hamburg, DE  – TICKETS