De line up voor het Belgische Alcatraz hardrock & metal festival was zeker al niet mis maar deze werd vandaag nog een stuk vetter gemaakt!
Zo zijn vandaag toegevoegd: Helloween, Dimmu Borgir, Epica, Amorphis, Kamelot, Alestorm, Pro-Pain, The Atomic Bitchwax, Inglorious, Brides Of Lucifer, Diablo Blvd, Bizkit Park en Pestilence.
Intussen zijn 38 bands van de 46 bekendgemaakt. Het festival zal net als vorig jaar gebruik maken van 2 stages: Prison stage en The Swamp.
Zo vinden we tot nu toe op vrijdag 10/08/18:
Prison Stage:
Brides Of Lucifer
Status Quo
Ross The Boss Band
Diablo Blvd.
The Quill
The Swamp
Bizkit Park
Amorphis
SUICIDAL ANGELS
The Atomic Bitchwax
Pro-Pain
BARK
Op zaterdag 11/08/2018:
Prison Stage:
Dimmu Borgir
Epica
KAMELOT
Mr Big
Battle Beast
Armored Saint
Fozzy
The Swamp:
UFOMAMMUT
Satyricon
Napalm Death
Municipal Waste
SÓLSTAFIR
Orange Goblin
Gruesome
Crisix
Op zondag 12/08/2018:
Prison Stage:
Helloween Pumpkins United
In Flames
BEHEMOTH!
Alestorm
Sepultura
Inglorious
ORDEN OGAN
The Swamp
Ministry
Alcest
Primordial
Exhorder
Pestilence (official)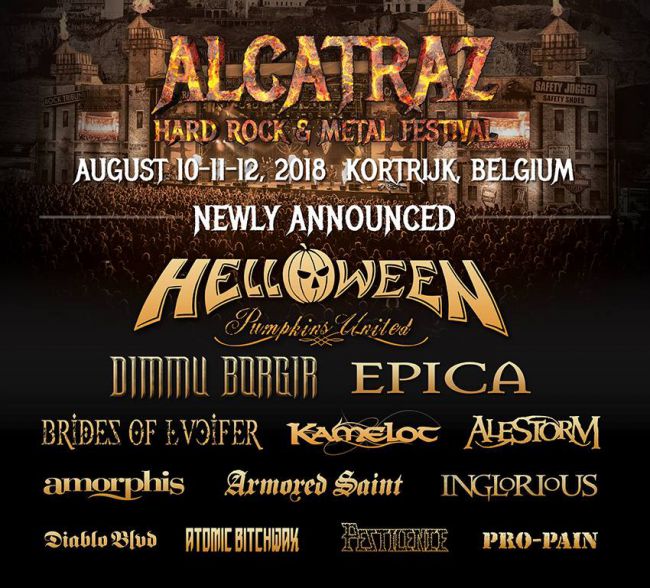 De voorverkoop loopt erg goed dus wees er snel bij om je tickets te bemachtigen!
Voor meer info omtrent het festival check de festival website!