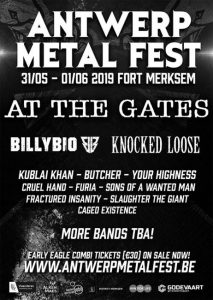 De organisatoren van het Antwerp Metal Fest hebben een eerste reeks bands aangekondigd voor het festival op 31 mei. De voorlopige headliner is At The Gates uit Zweden. Voorts zijn al vier Amerikaanse bands bevestigd: Billy Bio, Knocked Loose, Cruel Hand en Kublai Khan, en één Australische: Caged Existence. 
Uiteraard staan er heel wat Belgische bands op de affiche: Bütcher, Your Highness, Furia, Sons Of A Wanted Man, Fractured Insanity en Slaughter The Giant. Daar komt nog minstens één lokale band bij die het festival mag openen. Daarvoor wordt op 16 maart een bandcontest gehouden met Breakfast At Midnight, Monkey Juice, Primal Creation, Bleedskin, Innervate, Abacination, Hope Erodes en Flexant.
Er komen vast nog een paar grote namen bij op de affiche van het Antwerp Metal Fest. Vorig jaar waren de headliners Nile en Testament. Een jaar eerder waren dat Sepultura en Death Angel.