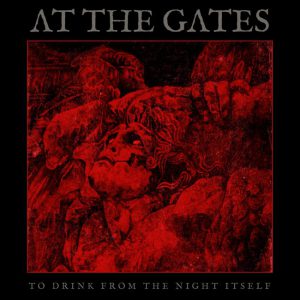 Op 18 mei bracht Century Media Records de vijfde plaat uit van het Zweedse At The Gates, één van de grondleggers van de Gothenburg death metal sound. To Drink From The Night Itself is een plaat over de wanhoop van je verzetten tegen (vul hier hetgeen in waartegen jij je wilt verzetten).  
Drieëntwintig jaar geleden zag Slaughter Of The Soul het licht en niemand had kunnen voorspellen dat de impact tot op heden nog steeds te horen zou zijn in de huidige metalscene. Hun terugkeer in 2007 was misschien een verrassing, maar wel een gewenste. At War With Reality uit 2014 bewees dat ze nog steeds meetellen in de metalscene en met deze plaat doen ze dat opnieuw, maar met een kleine omweg.
Daarmee bedoel ik dat de band zich probeert te vernieuwen in sommige nummers en in andere nummers grijpen ze terug op hun platen uit de jaren 90. Het titelnummer is een schoolvoorbeeld voor hoe een At The Gates nummer moet klinken, snel, agressief, hakkend als dolksteken in je maag. Daarnaast zijn er nummers die een andere weg inslaan en dat is wennen. Het is goed dat er nieuwe wegen worden ingeslagen maar de bochten mogen wel iets scherper genomen worden, het is nog wat mak. Gelukkig horen we op In Death They Shall Burn nog een Haunted riff die veranderd in een At The Gates riff.
Conclusie: At The Gates is aan het veranderen en dat is alleen maar goed. Ze moeten wel oppassen dat ze niet teveel naar het verleden terugkijken en in de toekomst turen. Het heden is hier en nu net als To Drink From The Night Itself, wat een goede plaat is voor de band maar waar nog veel meer uitgehaald kan worden.
Op een schaal van 1 tot 10:
8.5