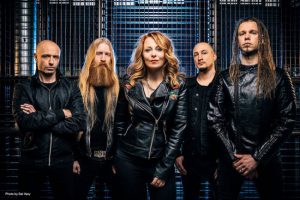 Anneke van Giersbergen's VUUR are pleased to announce the release of their debut album 'In This Moment We Are Free – Cities' for the 20th October 2017 worldwide through InsideOutMusic.
Each track on the new album is named after a city that made an impression on Anneke while touring the world, and to celebrate the release they have launched a contest where fans can guess each of the locations featured on the album, and win exclusive and rare merchandise. Head to vuur.insideoutmusic.com to take part.
Anneke comments: "Often I have a strong feeling for a city where I perform. It can be anything, sometimes I visualize a city as a man or a character, or sometimes something happened in that city that I want to write about. All 11 songs on the album pay tribute to a certain city and with this contest we'd like to give our fans the opportunity to guess which cities will be featured on the album and win some unique items."
The band also recently announced they will team up with Scar Symmetry for a short co-headline tour in December. Opening act for these exclusive shows will be My Propane.
Anneke had this to say: "We're very excited to present our debut album live and hit the road this December. Scar Symmetry and VUUR will each be playing full sets every night. VUUR's setlist consists of mostly new material, but the audience will get to hear some of my previous outings and collaborations as well".
December
7 – Le Trabendo Paris (FRA)
8 – Biebob Vosselaar (BE)
9 – The Dome London (UK)
10 – TivoliVredenburg Utrecht (NL)
As well as this, in May 2018 Residentie Orkest The Hague will host an encounter with Anneke van Giersbergen. Both nights will feature a career-spanning concert with orchestral arrangements. The song selection will even include material from her yet to be released VUUR album.
Anneke comments: "It's such an honor to be backed by these grand classical musicians with strings and brass interpreting my music. The material will be an interesting cross-section of my career. Some reworks will be a contrast from the original and some, for instance like the song 'Travel', will be given a treatment that is a logical extension of the The Gathering's original album arrangement. "
May 2018
18 – 013 Tilburg (NL)
19 – Paard The Hague (NL)
VUUR recently released 'Days Go By – London', the first track taken from their forthcoming debut album out later this year.
VUUR begin playing live this Summer, and have also been confirmed as main support to EPICA in late 2017.
July
14 – Masters of Rock, Vizovice – Czech Republic
15 – Dynamo Metal Fest, Eindhoven – the Netherlands
VUUR are:
Anneke van Giersbergen (ex-The Gathering) – vocals
Ed Warby (Hail of Bullets, Ayreon, ex-Gorefest) – drums
Jord Otto – guitars (My Propane, ex-ReVamp)
Ferry Duijsens – guitars
Johan van Stratum (Stream of Passion) – bass