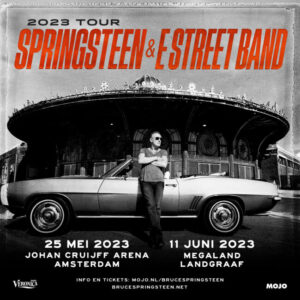 Bruce Springsteen and The E Street Band trapten afgelopen woensdagavond 1 februari hun internationale langverwachte 'Bruce Springsteen and The E Street Band 2023 Tour' af in de Amalie Arena in Tampa, Florida, waar ze uitzinnige fans trakteerden op een energieke set van 28 nummers met publieksfavorieten als 'Dancing In The Dark' en de klassieker 'Tenth Avenue Freeze-Out' uit 1975, naast nieuw materiaal van Springsteens meest recente studioalbums 'Letter To You' (2020) en 'Only The Strong Survive' (2022).
De show in Tampa markeert het eerste live-optreden van Springsteen samen met The E Street Band sinds de 'The River Tour' in 2017, en voor het eerst in Noord-Amerika sinds 2016. De setlist van de Tampa-show staat verder onderaan. Niet alleen bezoekers raakten in extase, ook de aanwezige media waren zwaar onder de indruk:
"Ecstatic, emotional…Springsteen and The E Street Band were locked in tight, beaming with joy, and feeding off the frenzied atmosphere in the crowd…let's enjoy every second of it while we can." – Rolling Stone
"If you'd wandered in from across the street, you'd likely assume they had been on the road for months already…the group was cooking from the opener…they were back in business." – Billboard
"This was a night that reaffirmed the power of music and community…Springsteen is increasingly peerless, which makes his live shows circa 2023 all the more must-see." – SPIN
"Bruce Springsteen and the E Street Band rocked like their lives depended on it…two hours and 45 minutes of revved up rock, soul and remembrance." – USA Today
Bruce Springsteen and The E Street Band toeren tot 14 april door de Verenigde Staten voordat ze naar Europa reizen voor zomershows. Op donderdag 25 mei en zaterdag 27 mei staat de band in de Johan Cruijff Arena in Amsterdam, en op zondag 11 juni op Megaland in Landgraaf.
BRUCE SPRINGSTEEN: EEN LEVENDE LEGENDE
Bruce Frederick Joseph Springsteen (geboren op 23 september 1949) is een levende legende. Zijn carrière bestrijkt een periode van ruim een halve eeuw die in 1973 begint met debuutalbum 'Greetings from Asbury Park, NJ' (Columbia Records). The Boss' indrukwekkende oeuvre bevat 21 muziekgenres overstijgende studio albums en is een van de best verkopende artiest aller tijden.
Het rockicoon won daarnaast zowat elke denkbare prijs, waaronder maar liefst 20 Grammy's, twee Golden Globes, een Oscar en een Tony Award. Hij werd opgenomen in zowel de Rock and Roll Hall of Fame als in de Songwriters Hall of Fame; ontving een Kennedy Center Honor; en was MusiCares' 2013 'Person of the Year'. Zijn autobiografie 'Born to Run' (uitgeverij Simon & Schuster) verscheen tegelijk met het verzamel-album 'Chapter and Verse' in september 2016, waarna hij twee maanden later met de Presidential Medal of Freedom werd bekroond. In Rolling Stone's lijst 'Greatest Artists of All Time' staat Springsteen op de 23e plek.
Setlist Bruce Springsteen and The E Street Band – Tampa, FLorida woensdag 1-2-2023
No Surrender
Ghosts
Prove It All Night
Letter To You
Promised Land
Out In The Street
Candy's Room
Kitty's Back
Brilliant Disguise
Nightshift
Don't Play That Song
E Street Shuffle
Johnny 99
Last Man Standing
House Of A Thousand Guitars
Backstreets
Because The Night
She's The One
Wrecking Ball
The Rising
Badlands
Burnin' Train
Born To Run
Rosalita (Come Out Tonight)
Glory Days
Dancing In The Dark
Tenth Avenue Freeze-Out
I'll See You In My Dreams