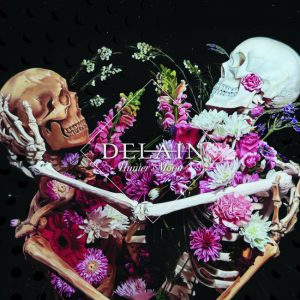 Hunters Moon van Delain is begin dit jaar uitgebracht. Het betreft Vier spiksplinternieuwe nummers en een geweldige live registratie van Nederlandse bodem, zoals Edwin op onze site vermeldde. 
Eén van de composities is het krachtige Nothing Left van het album April Rain.
"2019 marks 10 years since we first released "Nothing Left" on April Rain. Nowadays it's a rare treat to see the track performed at one of our live shows, but it hasn't lost any of it's power in the decade that has passed. Performing Nothing Left together with Marco Hietala was one of the highlights of the night in Tivoli, and in fact, the entire show felt like a highlight; it was one of my favourite shows of our career so far. You can relive the night through our new EP/Blu-Ray Hunter's Moon. As it was the first time we did an entire tour with Marco as a guest, all songs featuring him, including Queen cover 'Scandal' are included, and the video for Nothing Left is now available on Youtube. We hope you enjoy it!  "
Nothing Left is inderdaad nu op video verschenen en hierbij krijgt Delain versterking van Marco Hietala die zeer te spreken was over de tour.
"I was really pleased to do the tour, because it gave me a chance to challenge myself in different surroundings and band dynamics. In the end it comes down to the same old but great thing. I love doing good shows with good people for good audiences. All for one and one for all!"