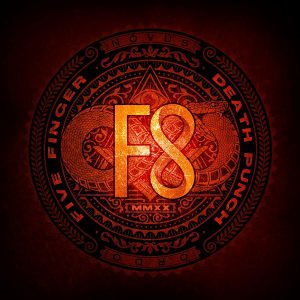 Met een flink aantal platina en gouden albums op zak gaat Five Finger Death Punch onverstoord verder en kondigt het achtste album F8 aan. Het album komt uit op 28 februari 2020 via Better Noise Music. Five Finger Death Punch mag algemeen wel gerekend worden als een zwaargewicht in de metal-/rockscene en zullen met F8 zeker weer kunnen overtuigen. Om een ieder wat warm te laten lopen, heeft de band ook meteen de (lyric)video van Inside Out online gezet. Inside Out krijg je trouwens, samen met andere nieuwe tracks, als gratis download wanneer je het album vooruit bestelt. 
Gitarist Zoltan Bathory vertelt:
"We had an extremely successful, yet tumultuous couple of years as a band. We didn't just weather the storm but came out on the other side better than ever. It was a focused sober group recording, our most important album to date and without a question it shows. This album represents rebirth, progression, transcendence both personally and musically".
en zanger Ivan Moody (die weer geheel onderdeel is van de band) voegt daaraan toe: "This record to me is 'absolution' – everything I've done in my life has led up to this moment".
F8 is de opvolger van het succesvolle And Justice For None uit 2018 dat over de hele wereld de top 10 van vele charts haalde.