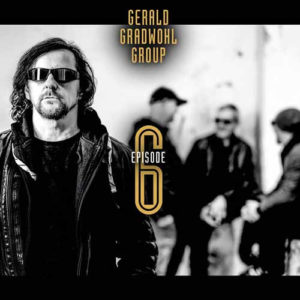 Naast dat Gerald Gradwohl ooit in Tangerine Dream heeft gespeeld wist ik eigenlijk niets over hem. Ik kan wel genieten van de muziek van Tangerine Dream, dus leek het me een goed idee om dit album ook eens een kans te geven. Episode Six is een jazzrock album van de Gerald Gradwohl Group. Als het om jazzrock gaat ben ik nooit echt verder gekomen dan Steely Dan, Ian Gillan Band en het solo werk van Deep Purple gitarist Tommy Bolin.
Het album begint met twee nummers van ieder onder de zeven minuten. Viking is een mooie intro met een harder rockgeluid en vanaf het tweede nummer Let's Talk begon ik een idee te krijgen waar het album naartoe ging. Van tevoren wist ik namelijk niet dat dit een instrumentaal album is.
Vanaf het derde nummer krijgen we allemaal nummers die zeven minuten of langer duren en de creativiteit spat er van af. Al klinken de meeste nummers als jazznummers en zijn de rockinvloeden niet altijd even duidelijk, er is een goede afwisseling. Een nummer zoals What's on Your Mind heeft meer roc invloeden dan bijvoorbeeld het nummer K-Log.
Ik ben vooral te spreken over het fantastische gitaar-, bass- en saxophonewerk. De instrumenten (en met name die) vullen elkaar perfect aan. Dat maakt dit een fijne luisterervaring. Al moet ik zeggen dat alle muzikanten weten waar ze mee bezig zijn en een subliem geluid neerzetten waar je U tegen zegt.
Persoonlijk zou ik dit album vooral als lekker werkmuziek opzetten, maar het is ook zeer geschikt om op de vrijdagavond na een lange werkweek te luisteren terwijl je van een lekker glaasje whisky geniet. Hoe je het ook went of keert, of het je genre is of niet, dit is een prachtig album met een fijn geluid waar ik me zeker meer in ga verdiepen.