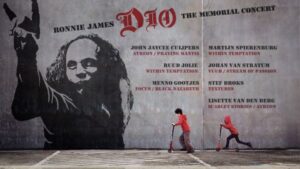 De top van de Nederlandse hardrock en metal slaat de handen ineen om Ronnie James Dio een – weliswaar door corona uitgesteld – passend eerbetoon te geven, op zaterdag 18 december. Op 16 mei 2020 was het tien jaar geleden dat de kleine man met de grootse stem ons is ontvallen.
Tijdens The Memorial Concert in Goes (Zeeland) worden alle fases van zijn carrière belicht. Reken dus op veel klassiekers van Rainbow, Black Sabbath en de band Dio, maar er zullen ook verrassende keuzes worden gemaakt uit het omvangrijke repertoire waaraan Ronnie James Dio zijn stem heeft geleend.
De sterbezetting tijdens deze speciale avond bestaat uit de zangers John JayCee Cuijpers (Ayreon, Praying Mantis) en Lisette van den Berg (Scarlet Stories, Ayreon), gitarist Ruud Jolie en toetsenist Martijn Spierenburg (beiden van Within Temptation), de van oorsprong hardrock gitarist Menno Gootjes (Focus, Black Nazareth), bassist Johan van Stratum (VUUR, The Gentle Storm, Stream of Passion, Ayreon) en drummer Stef Broks (Textures).