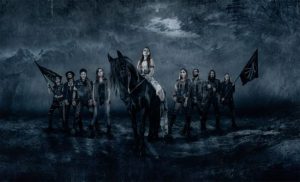 We all wade through archetypes. We all ARE archetypes. Distant echoes of a life both primeval and noble. To embrace these archetypes, to accept them not only as a part of life but as life itself is what some may call enlightenment, some peace of mind.
Eluveitie noemt het Ategnatos, de titel van het nieuwe album en volgens de band zelf ook het meest krachtige album dat de band heeft gemaakt.
Het album komt op 5 april uit via Nuclear Blast Records en mag betoverend en filosofisch genoemd worden. De invloeden voor het nieuwe album heeft de band gehaald uit de oude mythologie, de natuurrelige en de spiritualiteit die ons ook nu nog omringd.
The new album »Ategnatos« will be released on April 5th 2019 via Nuclear Blast.
"This one almost became something like a socio-critical uncovering work", says Chrigel, "some kind of a revelation, a doomsday prophecy. Dark and severe in its atmosphere and charisma, and also occult, arcane and elitist."
"The image, of course, is blood-curling",  zegt Chrigel met een grijns op zijn gezicht. "At least to those with eyes to see."
Er is bewust gekozen voor de titel Ategnatos dat een oude Gallisch woord is voor 'wedergeboorte'.  Chrigel  "To the sharpened mind, it points out the concealed, long forgotten key to change and renewal." This, naturally, comes at a price. "There's always suffering before bliss. And always darkness before light."
"These archetypes are still within us. People didn't change that much during the last 3000 years – and men were always just men."
Het artwork van het album is nog niet bekend, maar zal zeer binnenkort via het officiële Instagramaccount van de band gedeeld worden. www.instagram.com/eluveitie_official
ELUVEITIE are:
Jonas Wolf | guitars
Matteo Sisti | whistles, bagpipes, mandola, bodhran
Nicole Ansperger | fiddle
Alain Ackermann | drums
Chrigel Glanzmann | vocals, whistles, mandola, bagpipes
Fabienne Erni | vocals, celtic harp
Kay Brem | bass
Michalina Malisz | hurdy gurdy
Rafael Salzmann | guitars