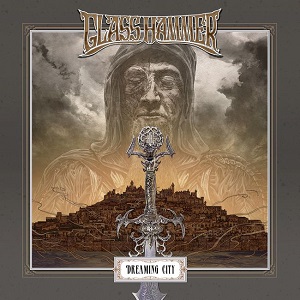 Amerikaanse progrockers Glass Hammer brengen op 17 april 2020 een nieuw album uit: Dreaming City. Het album wordt beschreven als de 'krachtigste muziekverklaring tot nu toe' waarmee de band terugkeert naar de wereld van het album Inconsolable Secret uit 2005.
Het concept vertelt het verhaal van een wanhopige man die zich een weg moet banen door een spectrum van gruwelen om zijn geliefde te redden. De hoofdrolspeler heeft slechts drie dagen om haar te vinden voordat ze sterft. Een dilemma dat de toon zet voor alles wat nog moet komen en een emotionele achtbaanrit voor de luisteraar garandeert.
Bassist en producer Steve Babb beschrijft de muziek als een nostalgisch eerbetoon aan verschillende genres, waaronder space rock, Berlin-School electronica, metal uit de jaren 70 en vroege progressieve rock. "Het is allemaal gedaan op een manier die duidelijk Glass Hammer is. Om het verhaal van het album over te brengen, hebben we Dreaming City de look en feel gegeven van een oude paperback-avonturenroman, inclusief fragmenten en illustraties. Iets wat we nog niet eerder hebben geprobeerd, maar denken dat onze fans het geweldig zullen vinden."
Steve Babb wordt op Dreaming City vergezeld door Fred Schendel (toetsen), Aaron Raulston (drums), Susie Bogdanowicz (zang), Brian Brewer (gitaar). Glass Hammer introduceert op dit album twee nieuwe zangers: Reese Boyd en John Beagley.
Tracklist:
1. The Dreaming City (7:14)
2. Cold Star (7:29)
3. Terminus (4:17)
4. The Lurker Beneath (1:44)
5. Pagarna (3:33)
6. At The Threshold Of Dreams (4:11)
7. This Lonely World (4:52)
8. October Ballad (4:11)
9. The Tower (2:40)
10. A Desperate Man (4:15)
11. The Key (6:10)
12. Watchman On The Walls (11:29)
Meer info en een teaser vind je op de website van Glass Hammer.