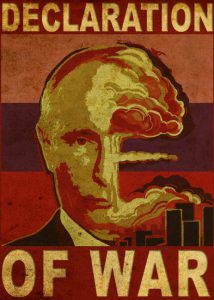 Following the announcement of their new vocalist the band has not disclosed much about what is planned but promises that this year will be full of surprises and that the real Crimena are back!  
This is the first preview of new material released from the band and the music video for 'Declaration of War' holds a strong political message.
The video depicts the struggles of a man haunted by the horrors of war and the reality he must face when he returns home. The video also has a deeper meaning, one that is in context with the rest of the songs on the upcoming EP and the entire idea behind the said EP. In this video Crimena collaborated with Andrei Ursu and Mitel Corici who also released the bands two previous videos (Mutawwa and Gospel of the Unbeliever). They were helped by Airsoft Craiova and Wrath Inc. This is the first single released with the new lineup and it is just a teaser for the great stuff that is to come.
Known for being loud and outspoken Crimena indulge the audience with subtle melodies from time to time and offer an unrestrained and honest performance on stage.
"It´s like if The Haunted, Pantera and Lamb Of God had an orgy and somehow one of them got pregnant, and on the baptism Sepultura walked in and claimed to be the Uncle of the little baby Crimena"
2015 marked the year of Crimena's debut EP release 'Genesis VI:XII' along with the music video for the single 'Bitter Pill'.
The band released their first studio album 'Chapter One: Divine Betrayal' in March 2016. The album was recorded in Urban Sound Studios and mastered in Greece at Esoteron Studios (known for working with SepticFlesh and Rotting Christ). Out via Leaders Records 'Chapter One: Divine Betrayal' is available in physical and digital form.