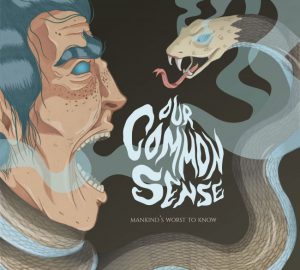 De nog jonge Belgische band Our Common Sense zoekt zijn eigen weg tussen sludge, stoner, posthardcore en postmetal. Denk aan een mix van Truckfighters, Prong, Karma To Burn en Russian Circles. Our Common Sense is begonnen als instrumentale band, maar de zang van Thomas, zowel clean als grunts, tillen de debuut-EP Mankind's Worst To Know wel naar een hoger niveau.
Our Common Sense slaagt erin om voor elk van de vijf tracks een eigen donkere en dreigende sfeer neer te zetten. Het wereldbeeld van deze Gentse band oogt overigens niet zo fraai, maar dat houdt hen niet tegen om alvast muzikaal flink wat weerwerk te bieden.
Eén van de beste tracks van de vijf is Take The Shot. Dat dendert een heel eind door tegen hoog tempo, zo hard dat je tijdens de gitaarsolo naar adem hapt. De intro van Exhale had tijdens het opnemen wat meer geduld en liefde mogen krijgen, maar ook de rest van deze track zakt ineen door een teveel aan zwaarmoedigheid. Dat stukje toespraak erin verwerken was dan weer wel een goede zet, maar het zou meer impact hebben als je dat aan het begin zet. Ook Sorrow gaat gebukt onder een overdaad aan tristesse, maar hier wordt dat fijn gecounterd door de pulserende energie van drum en bas.

Het is voor Our Common Sense nog wat zoeken naar de juiste dosering, maar ze zitten wel al op de juiste weg.