Polderpop dit jaar voor het eerst 2 dagen, 12 & 13 Augustus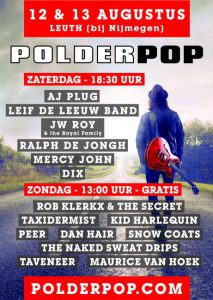 PolderPop heeft al 28 jaar een neus voor nieuw muzikaal talent. Groeidiamantjes met het label: "Veelbelovend". Zondag 13 augustus vanaf 13:00 uur spelen op twee podia bands die nog onbekend zijn bij het grote publiek maar het in zich hebben om groot te worden. Je kunt dan GRATIS genieten van: Taveneer, Snow Coats, Maurice van Hoek, Taxidermist, PEER, Kid Harlequin, The Naked Sweat Drips, Dan Hair en Rob Klerkx & the Secret.
Extra festivaldag!
PolderPop krijgt er op zaterdag 12 augustus een broertje/zusje bij. PolderPop Roots & More met de Nederlandse top op het gebied van blues en americana. Zes bands vindt je vanaf 18:30 uur op de podia: DIX, Mercy John, Ralph de Jongh, JW Roy & the Royal Family, Leif de Leeuw Band en AJ Plug. Voor PolderPop Roots & More zijn online kaartjes te koop.
Polderpop vindt plaats in het Geldersche Leuth (15 minuten van Nijmegen)
Meer informatie via http://www.polderpop.com