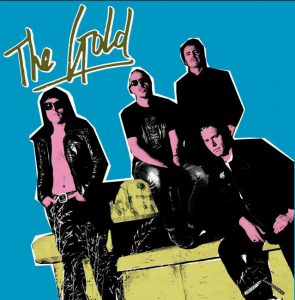 De Spaanse superband The Gold brengt zijn debuutalbum uit dat ze meteen ook maar The Gold als titel meegaven.
Superband is misschien overdreven, maar op zang en gitaar hebben ze de in Spanje wonende Amerikaan Kurt Baker (The Leftovers en nog wat andere zijprojecten, zoals de Spaanse bands Bullet Proof Lovers, K7s), Canadees Mark O'Flaherty (Chixdiggit en Imperial Surfers) en de Spanjaarden Marcos Mascato (The Phantom Keys, The Limboos)  en Oky Von Stoky (Hollywood Sinners). De producer is ook al niet mis: Mike Mariconda (The New Bomb Turks, The Pleasure Fuckers, The Devil Dogs, Cosmic Psychos, Hollywood Sinners, The Limboos, The Excitements, …). Mariconda spelt zelfs een stukje gitaar mee. Samen brengen ze rauwe garage met een flinke snuif oer-punk erbij. Denk aan The New York Dolls, Johnny Thunders and the Heartbreakers, The Rolling Stones of The Stooges.
Haalt elke track dan ook wel goud? Dat is maar hoe je het hebben wil. Deze band maakt al zeker genoeg vonken zodat er zeker wel een paar zullen overslaan naar liefhebbers van het genre. Voor wie het genre niet kent, klinkt het vast allemaal hetzelfde, terwijl de kenners duimen en vingers zullen aflikken voor het consistent hoge niveau van dit debuut.
Twee covers op dit album: Blue Monday, niet van New Order maar van Fats Domino, en Anyway You Want It van de Dave Clark Five. Niet meteen de bekendste tracks, maar wel goed gevonden. En ze geven er hun eigen draai aan, zodat ze niet opvallen tussen het eigen materiaal. Dat werd gecomponeerd door het duo Baker en Mascato en dat lukt vrij aardig. Het is snel, smerig en bijzonder catchy. Beetje retro, maar dat levert in dit genre enkel bonuspunten op.
Er zijn niet echt tracks die ver boven de andere uitsteken, maar als je naar het goud van deze The Gold delft, begin dan bij het openingstrio met Fallen Angel Stroll, Gimme Your Love en Trouble To Trouble.