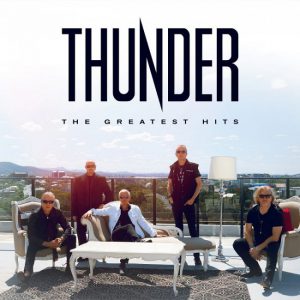 Thunder viert dertig jaar muziek met het op 27 september 2019 te verschijnen album The Greatest Hits. Op dit schijfje prijken 28 nummers afkomstig van hun 12 studioalbums. Het is de eerste compilatie die daadwerkelijk door de band is goedgekeurd, maar ook door Thunder zelf is samengesteld. De nummers die zijn gekozen voor The Greatest Hits tonen de evolutie die de band gedurende drie decennia heeft doorgemaakt. The Greatest Hits wordt uitgebracht in vier formaten: 2cd, uitgebreide 3cd [met een live-sessie opgenomen en gestreamd in de Planet Rock-studio op 18 januari 2019], 3lp en digitaal. Beide cd's worden beide afgesloten door Thunder-covers van klassieke nummers.
Tracklist cd1
Dirty Love / Love Walked In / She's So Fine / A Better Man/Backstreet Symphony / Low Life In High Places / River Of Pain / Like A Satellite / Stand Up / Living For Today / Love Worth Dying For / Just Another Suicide / All I Ever Wanted / Gimme Shelter [recorded for charity in 1993],
Tracklist cd2
I Love You More Than Rock N Roll / Loser / I'm Dreaming Again / The Devil Made Me Do It / On The Radio / The Rain / Wonder Days / Rip It Up / In Another Life / Right From The Start / The Thing I Want / Future Train [2019 Version] / Low Life In High Places [2019 Version] / Your Time Is Gonna Come [Led Zeppelin cover, recorded in summer 2018 during the Please Remain Seated album session. Previously unreleased.]
Commentaar van frontman Danny Bowes: "Having been at it for 30 years, we now feel we have enough of a body of work behind us to do this properly. We explored and re-imagined our back catalogue with the 'Please Remain Seated' album, and now with The Greatest Hits we've gathered all our key tunes together. It's all killer, no filler, and we hope fans like having it all in one place." Guitarist and songwriter Luke Morley added, "It was great fun picking the tunes for this compilation, and brilliant to put all of them into one big collection."
Informatie en bestellen via website van Thunder.