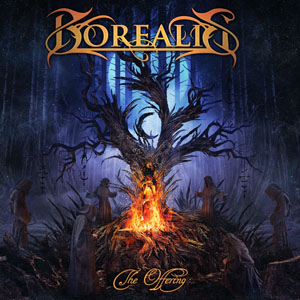 Een jaar geleden bracht het Canadese Borealis het album World Of Silence uit 2008 opnieuw uit. Het album is oorspronkelijk uitgebracht in eigen beheer en AFM Records vond het wel een goed idee om het album opnieuw op de markt te zetten.
Het laatste 'nieuwe' album Purgatory is ondertussen alweer drie jaar oud, dus ondergetekende is zeer verheugd dat de band met de video van Sign Of No Return zichzelf weer in de kijker speelt. De compositie is afkomstig van het nieuwe album The Offering dat eind maart in de winkels moet komen te liggen. Het afgelopen decennium heeft Borealis voor mij laten horen op de drie albums dat zij niet alleen maar goede progressieve powermetal maken van hoogstaand niveau, maar in de opbouw worden ze sterker en sterker.
Neem zeker de moeite om Sign Of No Return goed te beluisteren want naar mijn mening is Borealis toch op de een of andere manier een zeer ondergewaardeerde band.
TRACKLIST

The Fire Between Us
Sign Of No Return
The Offering
River
The Second Son
The Devil's Hand
Into The Light
Scarlet Angel
The Awakening
The Path
Forever Lost
The Ghosts Of Innocence