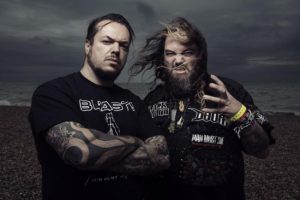 Cavalera Conspiracy, het project van de gebroeders Max en Iggor Cavalera hebben bekend gemaakt dat het vierde album op 17 november zal uitkomen en de titel Psychosis mee zal krijgen. Boezemvriend Arthur Rizk zal het album produceren en het zal door Napalm Records worden uitgebracht.
Max Cavalera in a recent interview with Metal Wani:
"The album right now is finished. It was produced by Arthur Rizk, our friend and a great producer –  an upcoming, underground producer. And he did a great job. I love the record. There are nine songs. We've got one song with Justin from GODFLESH –  just a great NAILBOMB, GODFLESH, CAVALERA kind of song. The rest is all pure thrash madness. And we had it mastered a couple of days ago by Joel Grind from TOXIC HOLOCAUST; he mastered the album. And it's great, man. It's a beast of an album. I think a lot of people are are gonna be surprised when they hear it. It's, for me, the best of all the CAVALERA albums, my favorite one. And it's got the same intensity and energy of the old stuff like 'Beneath The Remains' and 'Arise'. So a lot of people are gonna be happy to hear that."
De broertjes Max en Iggor zijn natuurlijk vooral bekend als leden van de legendarische band Sepultura. Een band waarmee ze startten in 1984. In de bezetting met Max en Iggor zijn er zes albums uitgekomen waar klassieke thrashnummers vanaf komen, zoals Beneath The Remains, Arise en Chaos AD. Muzikaal bruut, tekstueel altijd bezig om misstanden in de maatschappij aan de kaak te stellen.
Voor het album Roots uit 1996 betrad Sepultura nog onbegaande wegen en zette Brazilië, het tribalthrashgeluid en Sepultura onverzettelijk op de kaart.
Vanaf 2006 zijn de broers weer samen in Cavalera Conspiracy.
Naar verluidt zal het vierde album van dit project het meest zware metalalbum zijn van 2017. Cavalera zal de herfst een andere ervaring geven.