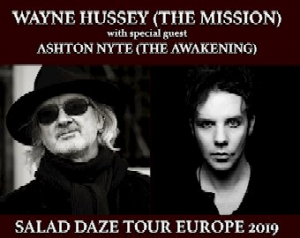 Wayne Hussey, de zanger van de iconische 80's-band The Mission, speelt drie shows in Nederland: op 17 september in Victorie (Alkmaar), op 18 september in het Paard (Den Haag) en op 19 september in het Limburg Theatre in Heerlen.
De Nederlandse shows maken deel uit van een Europese tour die ook o.m. België en Duitsland aandoet. Hussey speelt solo en brengt als support Ashton Nyte (ook solo) van The Awakening mee.
Hussey heeft geen nieuwe muziek te promoten, wel een boek. Salad Daze is een autobiografie die Hussey's leven beschrijft van zijn kindertijd tot zijn dagen in The Mission.