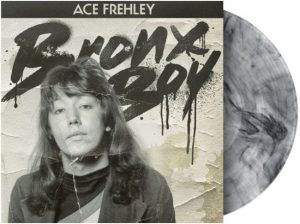 Over Ace Frehley kunnen we van alles zeggen. Met aardige regelmaat brengt hij soloalbums uit waarvan Origins volume 1 twee jaar geleden het licht zag. In oktober wordt het tijd voor een nieuw solo-album met dit keer weer eigen nummers.
Kort na zijn twee Billboard Top 20-albums die verschenen na zijn toevoeging aan de Rock and Roll Hall of Fame in 2014, komt de ex-gitarist van KISS en NY Times bestseller auteur Ace Frehley terug met "Bronx Boy", het eerste nummer van de nieuwe full-length
solo-lp die in oktober wordt uitgebracht.
Uitgebracht in een gelimiteerde oplage van 500 exemplaren in Europa, zal "Bronx Boy" een zeer gewild product zijn voor Ace en KISS verzamelaars
wereldwijd!