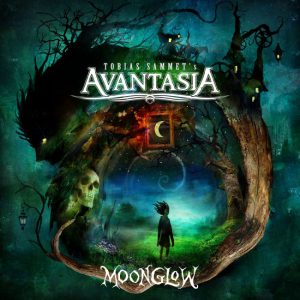 Het is al eerder genoemd dat Tobias Sammet 2019 start met een nieuw album van 'zijn' Avantasia. Het album heet Moonglow en zal op 15 februari uitgebracht worden door Nuclear Blast Records.
Comments Tobias Sammet, "I really can't wait to unleash "Moonglow". First reactions by press and friends are the most enthusiastic comments I have ever gotten in my whole career of 27 years. No bullshit, it's the truth, Sascha and I are overwhelmed!
In order to avoid boredom, in the middle of promotion and tour preparations I was getting myself involved in every detail of the album sleeves, booklets and packaging, to make sure the album drags the listener into a different world. I wanted "Moonglow" to be an overall experience for escapists like myself.
My favourite edition is the giant super strictly limited art book edition with bonus track and a bonus CD. A massive coffee table book with photos, interview, liner notes and illustrations of Victorian painter Grimshaw who has been very inspirational to me. This book edition is everything it takes to invite the listener into the world of "Moonglow" and its productional process.
There is also a smaller digibook version that features one bonus track and that is limited and beautiful as well. And of course there are also vinyl editions to hug, feel, watch, smell and caress.
I am extremely proud of all these little treasures and can't wait to unleash them!"
Het nieuwe album zal elf nieuwe composities tellen en ook oop Moonglow zullen diverse gastzangers hun bijdrage leveren. Tobias werkte niet alleen  met mensen als Ronnie Atkins, Jorn Lande, Erci Maretin, Geoff Tate, Micheal Kiske en Bob Catley, maar heeft ook wat 'nieuwe' namen om zich heen verzameld zoals Candice Night, Hansi Kürsch en Mille Petrozza.
»Moonglow« – Track Listing:
01. Ghost In The Moon
02. Book Of Shallows
03. Moonglow
04. The Raven Child
05. Starlight
06. Invincible
07. Alchemy
08. The Piper At The Gates Of Dawn
09. Lavender
10. Requiem For A Dream
11. Maniac
Bonus Track
12. Heart
Met de Moonglow World Tour 2019 vliegt hij de wereld rond om zijn rockevent van het jaar te tonen. Helaas en vooralsnog komen België en Nederland nog altijd niet voor in het tourschema.
Avantasia are:
Tobias Sammet | additional keys & bass
Sascha Paeth | guitars & bass
Michael Rodenberg | keyboards, piano & orchestration
Felix Bohne | drums
Oliver Hartmann | additional lead guitars
Met de officiële albumtrailer kun je alvast kennismaken met Moonglow