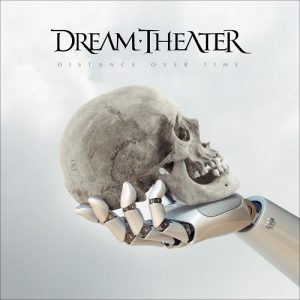 Two-time Grammy-nominated and millions-selling progressive music titans Dream Theater have released the first song from their recently announced 14th studio album, Distance Over Time. "Untethered Angel" is the first new song from the album slated for worldwide release on February 22, 2019. The new single is quintessential Dream Theater and takes the listener on a musical journey that cements the band's place as the premier progressive metal band around today.
"During the writing and recording process of D/T, 'Untethered Angel' was known as 'Song 4' to all of us as it was the 4th song written during the sessions. However, there has always been something about this track that just begged for it to be the album opener, even long before all of the songs were written," explains John Petrucci. "Fear is something that rears it's ugly head at some point or another in all of our lives. Fear of the unknown, fear of taking chances, fear of making mistakes. If we are not careful, it can be debilitating and sadly prevent us from realizing our true potential. The world we live in can be a scary place and the thought of an uncertain future a terrifying notion, especially for today's young people. Untethering from that fear and giving yourself up to the future's countless possibilities is what will ultimately set you free.'"
Distance Over Time showcases a newfound creativity for Dream Theater while maintaining the elements that have garnered them devoted fans around the globe. The album also marks the first for the band's new label InsideOutMusic / Sony Music. The artwork was created by long-time cover collaborator Hugh Syme (Rush, Iron Maiden, Stone Sour). Distance Over Time was produced by John Petrucci, mixed by Ben Grosse and mastered by Tom Baker.
Progressive metal pioneers Dream Theater— James LaBrie (Vocals), John Petrucci (Guitars), Jordan Rudess (Keyboards), John Myung (Bass), and Mike Mangini (Drums) — share a unique bond with one of the most passionate fan bases around the globe as evidenced by their two GRAMMY® Award nominations and 15 million records sold worldwide. The 1992 opus Images & Words received a gold certification and landed on Rolling Stone's coveted "100 Greatest Metal Albums of All-Time." Guitar World placed the follow-up Awake at #1 on "Superunknown: 50 Iconic Albums That Defined 1994." 1996's A Change of Seasons notably soundtracked NBC's coverage of Downhill Skiing at the 2002 Winter Olympics. Fans voted the 1999 Metropolis Pt. 2: Scenes from a Memory the "Number One All-Time Progressive Rock Album" in a 2012 Rolling Stone poll. Not to mention, it ranked as the "15th Greatest Concept Album" by Classic Rock.  2009 saw Black Clouds & Silver Linings crash the Billboard Top 200 at #6 as A Dramatic Turn of Events [2011] and Dream Theater [2013] maintained a three-peat in the chart's Top 10. Consequence of Sound dubbed 2016's The Astonishing, "An absolutely unique experience."  Beyond three platinum and two gold videos, the group was inducted into the Long Island Music Hall of Fame in 2010. On its 14th full-length and first release for InsideOut Music / Sony Music, Distance Over Time, the band recharge the brotherhood that has kept them creating music together for over 30 years. It's Dream Theater at their most dynamic, direct, and definitive.
In 2018, InsideOut Music have been celebrating 25 years as one of the leading labels worldwide for progressive music and is part of the Century Media Label Group, a division of Sony Music.
Dream Theater is:
James LaBrie – Lead Vocals
John Petrucci – Guitars, Backing Vocals
Jordan Rudess – Keyboards
John Myung – Bass Guitars
Mike Mangini – Drums, Percussion