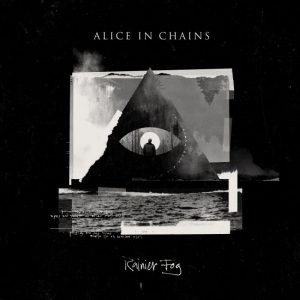 Alice in Chains kondigt RAINIER FOG, hun eerste album in vijf jaar, aan voor release via BMG op 24 augustus. 
Afgelopen week gaven ze weer een voorproefje in de vorm van de compositie So Far Under.
"So Far Under" volgt de track "The One You Know" op met de door Adam Mason gedirigeerde video, welke al meer dan 2,3 miljoen keer bekeken is.
Het album zal uitkomen op CD en digitaal. Ook verschijnt er een limited-edition double 180-gram clear LP met zwarte en witte splatter via de online shop van de band, zie hier.
Over "So Far Under," zegt Alice In Chains zanger/gitarist William DuVall: "It's about feeling completely up against it – outnumbered, surrounded, facing seemingly unbeatable odds and being really pissed off about it. It was inspired by personal circumstances, as well as events in the wider world. But it's not as resigned to defeat as it may seem. The lyric is a cold, hard assessment of a difficult situation but the music has a message all its own. There's still room to flip the script. Every aspect of writing and recording this song will always be remembered with a lot of joy – from recording the basic tracks and the guitar solo at Studio X in Seattle to doing further overdubs at Nick Raskulinecz's studio in rural Tennessee. Everyone in the band and our studio team really stepped up and knocked it out of the park on this one. We're extremely proud of this song and the entire album."
RAINIER FOG is Alice in Chains eerste album in vijf jaar, hun eerste album voor label BMG en voor het eerst sinds het debuut  hebben ze weer opgenomen in hun thuis stad Seattle. De titel van het album is ook een verwijzing naar Seattle. Ze hebben opgenomen in Studio X, dezelfde als waar ze in 1995 het Alice In Chains album opnamen. Destijds heette de studio nog Bad Animals. Ook werd er voor RAINIER FOG opgenomen in de Henson Recording Studios in Los Angeles en in de Nashville studio van producer Nick Raskulinecz. RAINIER FOG is het derde album op rij dat ze gemaakt hebben met producer Nick Raskulinecz en engineer Paul Figueroa. Het album is gemixed door Joe Barresi (o.a. Queens of the Stone Age, Tool).
Op dit moment begint de band aan hun tour door Europa. Op 5 juli staat Rock Werchter op het programma.
In hun opmerkelijke carrière heeft ALICE IN CHAINS meerdere Grammy nominaties gehad en verkochten meer dan 30 miljoen albums. Ze zijn een van de meest succesvolle en invloedrijke  Amerikaanse bands uit de geschiedenis.
Zowel "The One You Know" en "So Far Under" zijn beschikbaar als instant download als je hier RAINIER FOG besteld.