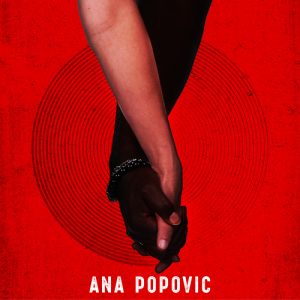 Een nieuw album van blues en rock gitariste Ana Popovic staat altijd garant voor een feestje.

Zo ook dit album dat een bonte mengeling van nummers herbergt. Het grote thema is saamhorigheid dat meteen al duidelijk is als je de hoesfoto ziet waarop twee handen elkaar stevig vasthouden. De nummers gaan over vriendschap en het omarmen van het leven zoals het je overkomt.

De basis voor het album wordt in de herfst van 2020 gelegd, in een tijd waarin de wereld verlamt is door de COVID19 pandemie en Popovic de diagnose borstkanker krijgt. Haar moeder heeft ze drie jaar eerder aan dezelfde aandoening verloren en haar wereld wordt ineens heel klein.

Er is twijfel, moet ze door in de muziek of stoppen, verhuizen of blijven wonen in hun net nieuwe woning in Californië? Bassist Buthel moedigt haar aan om door te gaan en Popovic begint aan haar nieuwe album. Ze ondergaat veertien chemo behandelingen in Amsterdam en tijdens de vluchten van en naar Los Angeles heeft ze contact met Buthel over het nieuwe album.

Demo's, opnames en live optredens volgen en ondanks alle behandelingen mist Popovic geen enkele show. Het nieuwe album is een album over hoop en de energie spat er van af. Opgewekte en innemende tracks rollen achter elkaar uit de speakers. Ze weet een hele stoet aan gerenommeerde namen aan zich te binden voor de opnames. Zo horen we powerhouse drummer Chris Coleman (Beck, Chaka Khan, Stevie Wonder), toetsenisten Michele Papadia, Brandon Bland en Jeremy Thomas, gitaristern Jeff Bates, Joe Foster en nog veel meer.

Doin'This gaat over het plezier bij het creëren van iets nieuws dat mensen blij maakt. In het geval van Popovic is dat muziek. Luv'n Touch is een mooie ballad met veel sentiment er in. Queen Of The Pack is een dynamisch nummer gaat in zekere zin over Popovic en haar positie in de band. De band noemt haar liefdevol The Boss Lady al voelt zij dat niet zo.

Alles bij elkaar is dit een heerlijk album vol prachtig gitaarwerk van één van de beste gitaristen van de wereld.