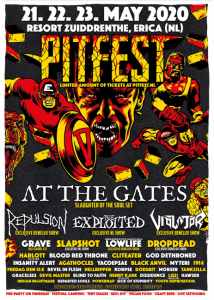 Het Pitfest in Erica heeft zopas At The Gates aangekondigd als headliner. Enkele lege plekken op de affiche voor het festival op 21, 22 en 23 mei  2020 in Erica werden nog ingevuld met o.a. Korpse, God Dethroned, 1914 en Insanity Alert.
Eerder werden reeds Grave, Violator, Cliteater, Repulsion, Slapshot, Harlott, Blood Red Throne, Black Anvil, Devil Master, Agathocles en Blind To Faith aangekondigd.
Wie er bij wil zijn in Erica, kan beter snel tickets bestellen. De vorige edities waren allemaal uitverkocht.