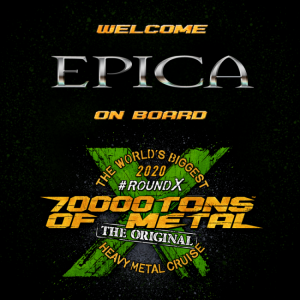 Epica mag in januari 2020 mee op 70.000 Tons Of Metal.
Deze Amerikaanse vijfdaagse metalcruise is al een paar keer gekopieerd, maar er gaat nog steeds niets boven het origineel. Meereizen is niet goedkoop, maar je kan op deze cruise belachelijk veel bands aan het werk zien en dat ook nog eens van heel dichtbij.
Behalve Epica gaan nog mee op 70.000 Tons Of Metal: Aborted, At The Gates, Venom, Candlemass, Emperor, Haggard, Leave's Eyes, Flotsam & Jetsam, Archon Angel, Cruachan, Devin Townsend, Kampfar, Moonsorrow en Sortilège. De lijst wordt nog aangevuld.