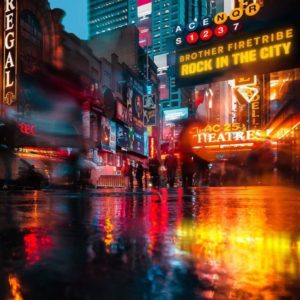 Het is alweer twee jaar geleden dat het Finse Brother Firetribe ons met het album Sunbound liet genieten van de AOR-sound waarmee de band al drie albums goed scoort.
In de tussentijd was het vrij stil totdat begin februari bekend gemaakt werd dat Emppu Vuorinen zijn rol in de band als gitarist heeft verlaten omdat hij het niet langer kan combineren met het succes van Nightwish. Maar……hij lijkt nog altijd bij het team van Brother Firetribe te horen en zal ook op het nieuwe album nog wel te horen zijn. Als gitarist is nu Roope Riihijärvi aangetrokken om het voortbestaan van de band veilig te stellen. Want…..zo oordeelt Brother Firetribe: "This band is too much fun to stop now. On with the show, feel the burn!"
Afgelopen donderdag werd dat ook meteen bewaarheid toen de video van de nieuwe single Rock In The City online werd gezet. Bereid je voor op heerlijke AOR muziek die wellicht voorspelbaar is, maar daarnaast ook voelt als thuiskomen.