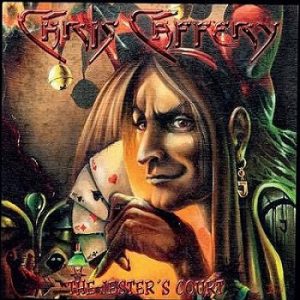 Er zijn artiesten die geen nadere introductie nodig hebben. De in 2017 50 jaar geworden Chris Caffery is daar een van. Op zijn palmares staan albums met onder andere Savatage, Trans-Siberian Orchestra (TSO), Doro, Joe Lynn Turner en Circle II Circle.
Er wordt wel eens vergeten dat hij ook albums onder eigen naam heeft uitgebracht. Het onderhavige The Jester's Court is al weer zijn zesde solo-album en opvolger van Your Heaven Is Real uit 2015. Wanneer je een goede reputatie opgebouwd hebt, is het eenvoudig om een in een handomdraai een degelijke band in elkaar te knutselen. Wat te denken van de volgende namen die aan dit schijfje hun medewerking verlenen: Brian Tichy (Whitesnake, Billy Idol, Foreigner) op drums en Alessandro Del Vecchio (Jorn) op toetsen. Verder zijn er gastbijdragen van Jane Mangini (TSO, Dee Snider, Joe Lynn Turner), Tony Dickinson (TSO) en Joel Hoekstra (Whitesnake, TSO, Night Ranger). Zang, gitaar en basgitaar neemt de meester zelf voor rekening.
Muziek en tekst van alle 12 nummers zijn geschreven door Chris Caffery. Met uitzondering van de volgende tekst: "Father can you hear me it is not how it was meant to be". De tekst is van en een eerbetoon aan de op 5 april 2017 overleden Paul O'Neill, mede-oprichter van Trans-Siberian Orchestra.
Muzikaal gezien kent het album geen verrassingen. Het bruist, gruist, rockt, beukt en stampt. Samengevat: het gaat er hevig aan toe in een mix van hardrock, metal, power metal en progressieve metal. Zo af en toe is er een rustpunt zoals Protect My Soul. Maar deze rustpunten kennen stuk voor stuk fijn gitaarwerk. De mannen laten vrijwel geen minuut onbenut hun niet geringe kwaliteiten te tonen.
Ook vocaal laat Chris Caffery er geen gras over groeien. Zijn van Savatage bekende rauwe en agressieve zang voert ook hier de boventoon. Op Inside My Heart schurkt hij met bijtende zang tegen het randje van het acceptabele aan. Luna Major is instrumentaal. Heftige gitaarriffs, gierende gitaarsolo's, dubbele bassdrums en het geluid van een ronkend orgeltje van kop tot staart. Vreemde eend in de bijt is Watch. Deze compositie doet sterk denken aan het werk van Alice Cooper. Nog maar te zwijgen over de kolderieke en muzikale circusact Checkmate.
The Jester's Court is een metal album in de categorie niet lullen maar rocken. Is dat je motto en ben je fan van in deze recensie genoemde groepen, dan is deze cd de aanschaf meer dan waard.