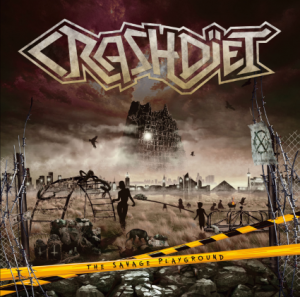 Bijna drie jaar hebben fans van Crashdiët moeten wachten op dit nieuwe album dat de opvolger is van het uitstekende Generation wild uit 2010. De voor de hand liggende vraag is dan natuurlijk of The savage playground het lange wachten waard is geweest?
Het vergt een aantal luisterbeurten om die vraag ook daadwerkelijk te kunnen beantwoorden want in eerste instantie valt het album eerlijk gezegd nogal tegen. De nummers van de Zweedse glamrockers grijpen je niet direct bij de strot. Bij nader inzien was dat eigenlijk ook het geval met Generation wild waarop een aantal geweldige nummers staan die het album omhoog tillen zoals het titelnummer en Beautiful pain. En daar zit nou net het verschil in vergelijking met deze nieuwe plaat, want nummers van dat niveau ontbreken helaas op The savage playground.
Maar zoals gezegd, na een paar luisterbeurten valt het album ineens op zijn plek en is het als geheel misschien wel een betere plaat dan zijn voorganger omdat het niveau vrij constant is zonder echte uitschieters. Maar ook nu zijn het de catchy nummers als Sin city, Got a reason en Excited die het meest aanspreken. Het stevige Change the world en Cocaine cowboys hakken er eveneens lekker in en opvallend is het aanstekelijke Anarchy dat zelfs aan Lillian Axe doet denken.
De glam-metal fans en die van Crashdiët in het bijzonder kunnen met dit nieuwe album weer prima uit de voeten. Op 30 mei staan de heren in The Rock Temple in Kerkrade en een dag later in De Boerderij in Zoetermeer.