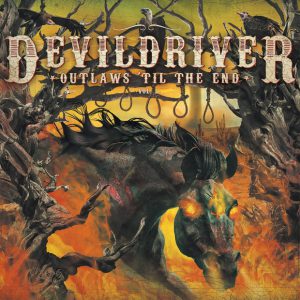 De Amerikaanse metalband Devildriver brengt deze zomer een opmerkelijk coveralbum uit. Op Outlaws 'Til The End zullen uitsluitend covers staan van countrynummers.
De band kreeg ook veel hulp bij de opnames. Ana Cristina Cash en John Carter Cash (schoondochter en zoon van Johnny Cash), Randy Blythe en Mark Morton van Lamb of God, Lee Ving van Fear, Wednesday13, Burton C Bell van Fear Factory en Brock Lindow of 36 Crazyfists.
"I think real music has always gotten to me, whether it's the blues or even real Goth music like Bauhaus and Sisters Of Mercy, as well as outlaw country greats like Johnny Cash, Wayne The Train Hancock, and Willie Nelson", vertelt Devildriver-zanger Dez Fafara. "That stuff has always attracted me, and this is absolutely the real McCoy. The blues and outlaw country are what made rock n' roll. They were around before rock n' roll… and in my head, I've always heard these songs heavy."
Wednesday13 doet mee op If Drinking Don't Kill Me van George Jones, 36 Crazyfists-frontman Brock Lindow geeft een extra dimensie aan Steve Earle's Copperhead Road en Burton C Bell van Fear Factory's hielp mee op Richard Thompson's anti-oorlogssong Dad's Gonna Kill Me. Randy Blythe en Mark Morton van Lamb of God staan Devildriver bij op Willie Nelson's Whiskey River en Blythe komt nog eens terug op  de cowboystandard Ghost Riders In The Sky. Op die track doet ook de zoon van Johnny Cash mee. Hank Williams III mag meedoen op de cover van zijn eigen song Country Heroes.