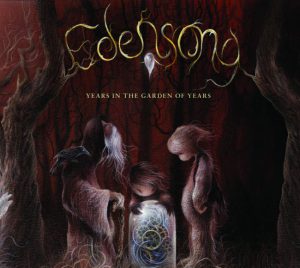 Een complexe mengeling van progressieve rock en klassiek met onverwachte wendingen.
Na een proces van vijf jaar brengt Edensong een vervolg uit op het debuutalbum The Fruit Fallen. De vijf bandleden, gitarist/zanger James Byron Schoen, drummer Tony Waldman, toetsenist Stefan Paolini, bassist TD Towers en fluitist Barry Seroff hadden meer dan vijf jaar nodig om dit concept album te schrijven, op te nemen en te mixen. Maar nu is het eindelijk daar, ruim zeventig minuten progrock van de bovenste plank, verdeeld over tien nummers. Een bizarre en ingenieuze mix van klassiek en rock. Externe invloeden zijn duidelijk herkenbaar, het is soms bijna een mix van Supersister, Mike Oldfield, Jethro Tull, Yes en Genesis. Maar Edensong brengt het wel op een heel eigen manier.
Cold Cry is een mooie opener met een erg goed in het gehoor liggend refrein. Een zoon wordt door zijn vader getraind om harder te worden, want wie zal er luisteren, wie zal je horen? End Times In Retrospect is een instrumentaal nummer, met een onnavolgbaar ritme. Net als de andere negen titels zit het erg sterk in elkaar, tempo's en volume wisselen elkaar steeds weer af. In The Longest Days is een wat rustiger nummer, met een nadrukkelijk aanwezige fluitpartij. The Hollowed is één van de drie nummers op het album die langer dan negen minuten duren. Elk nummer is goed doordacht en is muzikaal een genot om naar te luisteren. Ook tekstueel is het een album om je in te verdiepen. Er staat nog een ander instrumentaal nummer op het album, Chronos, dat ruim negen minuten duurt. Ook hier weer de overschakeling van diverse melodielijnen die het geheel zo aantrekkelijk maken.
Voor de liefhebber is dit album een must. En voor de nieuwsgierige luisteraar zeker een luisterbeurt waard.