EERSTE NAMEN MISTY FIELDS 2018
De eerste namen van Misty Fields, het allerleukste ontdekkingsfestival van Nederland, zijn bekendgemaakt! Het festival, dat dit jaar op 31 augustus t/m 2 september plaatsvindt, gooide vanmorgen een mooie greep namen naar buiten met o.a. het Canadese noise trio METZ, Birth Of Joy en de Vlaamse knuffelpunkers van Equal Idiots.
De rest van het lijstje wordt aangevuld door Korfbal, Dylan Leblanc, Nordmann en het Franse blues-rocktrio Dirty Deep. Hoewel Misty Fields dit jaar voor het dertiende jaar plaatsvindt, is het nog steeds een van de best bewaarde geheimen in muziek-land. Al jaren weet het festival de fijnste internationale en nationale namen, zoals King Khan & The Shrines, Ulrika Spacek en Amber Arcades, naar Asten/Heusden te halen. En niet onverdienstelijk, want steeds meer muzikale fijnproevers en liefhebbers van sfeervolle festivallocaties weten de weg naar natuurgebied 'De Groote Peel' te vinden.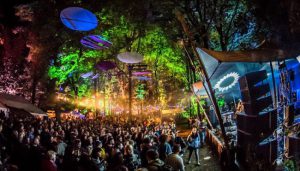 Naast nieuwe muziek presenteert het festival ook beeldende kunst, theater en documentaires. De sfeervolle, bosrijke festivallocatie en het uitgebreide aanbod aan eten & drinken maken de unieke festivalervaring compleet. Weekendkaarten voor Misty Fields zijn nu te koop via de website en kosten maar 37 euro. Een kaartje voor de vrijdag kost 20 euro en voor de zaterdag 28 euro. Voor het zondag ticket ben je slechts 5 euro kwijt.
Meer informatie over Misty Fields en de kaartverkoop vind je natuurlijk op de website van het festival.