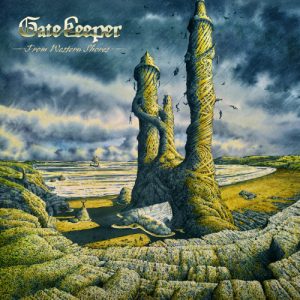 De Canadese melodische heavy metal band uit Vancouver brengt voor het eerst i vijf jaar weer een nieuw album uit.

In Vancouver weet gitarist Jeff Black zich omgeven door stranden, bergen en bossen. En dat allemaal binnen dertig minuten afstand. Hij heeft het gevoel hier meer inspiratie vandaan te halen dan uit de omgeving van Edmonton waar de band in 2014 vertrok.

Vancouver is ook de plek waar de grote doorbraak voor Gatekeeper vorm kreeg, in 2018 met het album East Of Sun, gevolgd door de EP Grey Maiden in 2019. De titel van het nieuwste album is dan ook een eerbetoon aan deze provincie.

De band heeft qua line-up ook wat veranderingen ondergaan. Gitarist Adam Bergen (ex-Trollband) kwam op de plek van Kenny Kroecher, zanger Tyler Anderson (Odinfist) is de opvolger van Jean Pierre Abboud. Bassist David Messier en drummer Tommy Tro maken het vijftal compleet.

De meeste teksten en muziek op het album zijn van de hand van Anderson. Met zijn scherpe en gepassioneerde vocalen verhaalt hij over diverse thema's zoals pulp fantasy, mythologie en fantasy. Zo gaat het nummer Exiled King over de laatste Viking koning van Noorwegen, Harad Hardrada. From Western Shores en Keepers Of The Gate zijn autobiografisch en opgedragen aan de trouwe fans.

De band combineert sterke riffs met pakkende koortjes. Er zijn stevige uptempo stukken en Anderson haalt hier en daar met hoge uithalen de aandacht naar zich toe. Black zegt over de nummers dat de heavy metal gedeeltes meer klinken als heavy metal, de droevige stukken klinken, en hij drukt zich voorzichtig uit, 'sad as fuck'. Kortom, een gitarist die blij is met het eindproduct.

Met acht nummers in bijna een uur tijd levert Gatekeeper een sterk album af dat geen moment verveeld. Voor liefhebbers van melodische metal is From Western Shores een aanrader.