Het stond in de sterren geschreven dat de instrumentale postmetalband Grand Aquila, uit het Franstalige deel van België, onderdak zou vinden bij dunk!records. En dat is dan ook zopas gebeurd.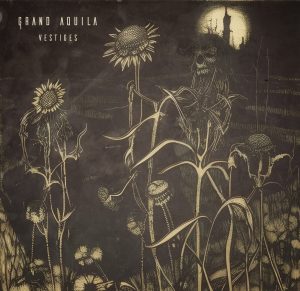 Drie van de vier bandleden speelden eerder in bands die al albums op dat toonaangevende Belgische label uitbrachten (Terraformer en Ilydaen). Voor de mix deed deze band ook nog eens een beroep op de Duitser Tobias Stieler, die eerder al productie en/of mix deed voor dunk!-bands bands als Stories From The Lost, [ B O L T ], Mantis en Celestial Wolves. Grand Aquila bracht hun debuutalbum Vestiges eerder dit jaar al digitaal uit, maar de uitgave op vinyl komt dus binnenkort van dunk!.
Grand Aquila brengt instrumentale postmetal en dan liggen de vergelijkingen voor de hand. Turpentine Valley op hetzelfde dunk!records is een no-brainer als referentie. Dezelfde donkere gelaagdheid, hetzelfde spel met opbouw en intensiteit, dezelfde invloeden van blackmetal tot het donkerste van de jaren '80, … Voorts grijpt deze band terug naar voor het genre klassieke inspiratiebronnen als Russian Circles, Cult Of Luna, Pelican en Tool.
Vestiges is een intrigerende verzameling van lange tracks, elaborate en soms progressieve structuren, veel tempowisselingen, een mix van atmosferische rustpunten en harde mantra's, spelen met intensiteit en spanningsboog, … Dit is instrumentale postmetal volgens het boekje.
De beste tracks voor mij zijn Concarnatio en Corruptio, maar nog beter is om het hele album te luisteren als één langgerekte trip.
https://grandaquila.bandcamp.com/album/vestiges