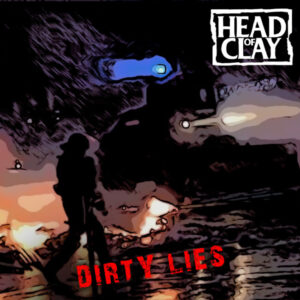 Het is alweer enige maanden geleden dat Head Of Clay uit Melbourne een single uitbracht. Met Dirty Lies is die stilte doorbroken en mogen de vier heren, die onvervalste jaren negentigrock ten gehoor brengen, zich weer met trots presenteren aan de liefhebbers van rockmuziek in het algemeen.
Beïnvloed door bands als Soundgarden, Deep Purple en The Tea Party zet Head Of Clay ook met Dirty Lies een compositie neer die vooral gedomineerd wordt door een lekkere groove in een prettig tempo. Daarbij is het stemgeluid van David Trimboli zoals altijd warm en goed aanwezig en verzorgt gitarist Pravesh KC met precisie de gitaarmelodie die uitgebreid wordt door een sterke rocksolo.
Tekstueel rekent Head Of Clay af met de dubbele agenda's en de leugens die de maatschappij verzieken en vergiftigen.
Bassist Walter Zamuner over de single, "A lie is a scandalous tool that can be used to impact a person's ability to rationalise a situation on its merits. We can unknowingly be lied to by many
people in the sphere of our life, most have little impact and no lasting ramifications but some can be more destructive." "The song is essentially about breaking away from lies, cancel divisions and government tyranny to be free and learn how to have fun with each other again."
Dirty Lies is daarmee meer dan een fraaie rockcompositie (in de stijl van John Cougar Mellencamp); het is een muzikaal statement met een positieve boodschap naar vrijheid.