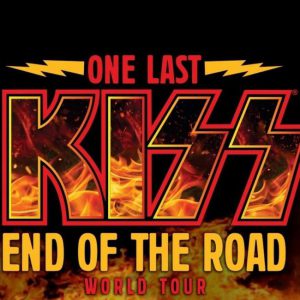 Nederland was bij menig entertainmentprogramma in de ban van Glennis Grace bij de finale van America's Got Talent, maar belangrijker was het nieuws dat de leden van KISS in petto hadden bij de aanvang van het programma. De grote aankondiging van de End Of The Road World Tour werd op een manier gepresenteerd zoals alleen KISS dat kan. Facebook en website staan bol van de mededelingen en reacties. Gaat het dan toch waar zijn na 45 jaar. Geruchten gaan de ronde dat Paul Stanley en Gene Simmons zich terugtrekken,  maar dat vervangers samen met Tommy Thayer en Eric Singer KISS gaan voortzetten. Wat hier van waar is, zal moeten blijken. Eerst maar afwachten wat het tourprogramma gaat worden en wanneer we de heren met hun spectaculaire show in Nederland e.o. kunnen gaan aanschouwen.
After an epic and storied 45 year career that launched an era of rock n roll legends, KISS announced exclusively on NBC's America's Got Talent tonight that they are hanging up their 9-inch tall touring boots. The news was delivered in trademark larger-than-life KISS style with a blistering performance of "Detroit Rock City", proving why the band is known as one of the most iconic live performances that simply can't be missed. The Rock & Roll Hall of Famers who have sold more than 100 million albums worldwide have toured to nearly every city on the planet and played every venue imaginable. Having played for Kings & Queens, for U.S. veterans, and for millions of devoted KISS Army fans, they will play their final shows as part of the multi-year END OF THE ROAD WORLD TOUR. Dates have yet to be announced but www.KISSonline.com will have all the updates in the weeks to come.
"All that we have built and all that we have conquered over the past four decades could never have happened without the millions of people worldwide who've filled clubs, arenas and stadiums over those years. This will be the ultimate celebration for those who've seen us and a last chance for those who haven't. KISS Army, we're saying goodbye on our final tour with our biggest show yet and we'll go out the same way we came in… Unapologetic and Unstoppable," said KISS.
This show will have the most explosions, the most hits and be the loudest yet! Stay tuned to KISSONLINE.com or details on how to come celebrate one last tour with us.