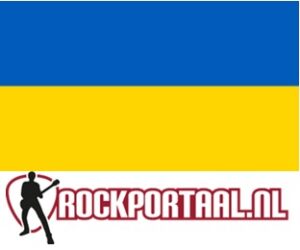 James LaBrie
Met Dream Theater bracht James LaBrie afgelopen jaar het prachtige album A View From The Top Of The World op de markt. En na negen jaar weet hij ook nog een nieuw solo-album uit te brengen. Het album heet Beautiful Shade Of Grey en zal door InsideOut Music worden uitgebracht. Bij de single Devil  In Drag is een (animated) video online gezet.
Ten aanzien van het vorige album doet James het dit keer zonder Matt Guillory. Alleen gitarist Marco Sfogli horen we op het nieuwe album terug. Daarnaast maakt James gebruik van bassist/gitarist/procucer Paul Logue, drummer Chance LaBrie en toetsenist Christian 'Chrism'Pulkkinen.


OG-EZ-OR
Met het uiteenvallen van Daft Punkt is er de opvolger met het cyber-rock/metal/electro combo OG-EZ-OR, misschien beter bekend onder de oude naam Entropy Zero. Opgericht in 2017 door F-2301 probeert de band je te overtuigen met een mix van electro en (industriële) metal sterk beïnvloed door science fiction. F-2301 wordt hierbij bijgestaan door zijn broer K-74.
Het eerste album Mind Machine: a new experience dateert alweer uit 2019 en in mei 2021 was het de beurt aan Quantum Gates, gepresenteerd in de vorm een compleet USB-pakket met muziek, video en games. Het is sinds 2022 dat de band de naam heeft veranderd in OG-EZ-OR en brachten het album Distortion Process uit. Liefhebbers van Combichrist, Rammstein en Gary Numan kunnen gerust de volumeknop harder zetten bij de laatste singles.


Landmvrks
Het album Lost In The Waves van Landmvrks is (weer) uitgebracht, maar nu als The Complete Edition. Het is een wat uitgebreidere versie van het originele album. Om het wat te promoten is de video bij Self-Made Black Hole uitgebracht met daarop een gastrol voor Anthony Diliberto van Resolve.

Apocalyptica
Voor de nieuwe single I'll Get Through It is het Finse cello-rockkwartet Apocalyptica weer een samenwerking aangegaan met een paar grote namen. De nieuwe single werd geschreven door Dianne Warren en Franky Perez verzorgt de zang. Daarnaast heeft Geezer Butler van Black Sabbath de baspartijen voor zijn rekening genomen.
De nieuwe compositie kwam eigenlijk tot stand toen Geezer en Franky een bezoek brachten aan Diane, die toen Not Strong Enough al had geschreven voor de finnen.
"Franky & I were visiting my friend, Diane Warren, at her studio. She played us this song, saying that she thought it would work well with Frankie's voice. He gave it a try on the spot. We loved it. Franky then suggested sending it to Apocalyptica. They loved it, and the rest is history", volgens Geezer.
Franky Perez deelt het geovel toen hij de nieuwe single voor het eerst hoorde "I knew this song was special from the moment Diane Warren played it for Geezer and me. So much so, that I framed the lyrics from the session the very next day. They have been hanging on my wall ever since. This song speaks to me lyrically which made for an honest performance. Musically, there is no better collaboration than Geezer and Apocalyptica to do the song the justice it deserves. I feel very fortunate to be a part of it."
Apocalyptica:  "We are more than thrilled working with our great and talented friend Franky Perez again! It's been a while since our previous collaborations in Shadowmaker- album and tour, and we are also highly awaiting for getting back on road with him this April all across the States!"
"'I'll Get Through It' – is a meaningful and beautiful song by an incredible songwriter Diane Warren, with whom we've also had the pleasure of working with before. We can't wait for you to hear the final result… falling in love again with Franky's sensual performance, Geezer's earthshakingly powerful bass, and our wistfully haunting cellos, among the inevitable presence of all the rhythms and groove!"

Any Given Day
In 2019 was ik erg onder de indruk van het album Overpower van Any Given Day. In de review werd er het volgende over geschreven:  "Overpower is een mooi vervolg op Everlasting en Any Given Day weet toegankelijke Amerikaanse rock strak en perfecte te mixen met groovende metalcore. Een dijk van een album die laat horen dat we met Any Given Day rekening moeten houden als toekomstige headliner."
Apocalypse is de nieuwe single van de band en hier weet de band krachtige grooves weer te mengen met een heerlijke melodie.

Joe Bonamassa
Deze week heeft Joe Bonamassa de officiële, geanimeerde muziekvideo voor het nummer "Mind's Eye" gelanceerd. Het nummer is afkomstig van zijn veelgeprezen album "Time Clocks". De verbluffende video, die een eerbetoon is aan de geanimeerde stijl van de Beatles' Yellow Submarine en de progrockvideo's uit de jaren 70, wordt uitgebracht in aanloop naar Bonamassa's Europese/UK-tour die op 20 april begint en tot 7 mei doorloopt.
"Joe wanted this video to emulate the great prog rock videos of the past using cool custom illustrations and psychedelic scenes," zegt Roy Weisman, de CEO van Joe' U.S. label J&R Adventures.
Weisman voegt toe: "The song has a very Pink Floyd feel so the video needed to step up and meet that unique vibe. The whole Time Clocks record is about a journey and Mind's Eye" gives you a fun glimpse of what could be swimming around in inside someone's mind."
De gevierde bluesrockgitarist / singer-songwriter Joe Bonamassa keert voor het eerst in drie jaar terug naar Europa en het Verenigd Koninkrijk. De 2022-tour volgt op de release van Bonamassa's veelgeprezen 15e solo-studioalbum "Time Clocks", welke in oktober 2021 werd uitgebracht via Provogue/Mascot Label Group in Europa en J&R Adventures in Noord-Amerika.
Tijdens de komende tour zal de gitarist optreden samen met een zorgvuldig geselecteerde groep muzikanten van wereldklasse die nummers spelen van zijn recente studioalbum "Time Clocks", evenals nummers uit zijn uitgebreide catalogus met albums als "Royal Tea", "Redemption ", "Blues of Desperation" en "The Ballad of John Henry", plus enkele klassieke Bonamassa fan favorieten.

Motionless In White

Breathe Atlantis
Het nieuwe album Overdrive van Breathe Atlantis is uit en het is een album waaruit blijkt dat de band is ontwikkeld en zich nog meer kunnen gaan meten de grote internationale acts. Met de video van Going Down kun je dat zelf vaststellen.
"Overdrive has become a turning point for us, which we all needed. On the record we process our past, in which we were often frustrated and depressed due to external circumstances and we felt limited and constricted by expectations or external ideas. On this album we just did what we felt like doing and wrote and shouted everything from the soul. This is our most honest and emotional album we've written so far and I think it will speak to a lot of people," aldus zanger Nico Schiesewitz.

KingCrown
KingCrown heeft bij de tweede single To The Sky And Back ook een video geschoten. De single is terug te vinden op het album Wake Up Call dat 25 maart uitkomt via ROAR! Rock Of Angels Records!