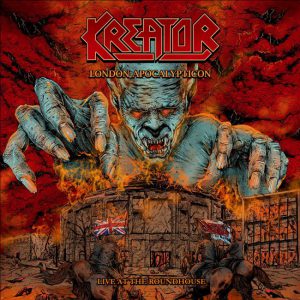 Het is 16 december 2018 wanneer Kreator de winterse kou in Londen weet te trotseren en de gehele stad van uit The Roundhouse in vuur en vlam zet. Met een sterke liveshow laten de Duitsers het Londense publiek genieten van hun onvervalste thrashmetal. Het geheel is opgenomen en zal worden uitgebracht op 14 februari 2020 via Nuclear Blast Records. Het livealbum London Apocalypticon – Live At The Roundhouse is een mooi livedocument van Kreator.
Zsnger Mille Petrozza meldt het volgende over dit livealbum:
"Hordes! Welcome to London Apocalypticon! This is the culmination of a long and epic touring cycle in support of GODS OF VIOLENCE – over 150 shows, 5 continents and many amazing memories made! We're very proud to share this amazing piece of KREATOR history with you; 3 professionally shot shows, plus professionally mixed and mastered audio; all of which has been meticulously laboured over to produce the best ever KREATOR live release! But if this is still not enough for you…you can witness the real thing this spring when we embark on the 'State of Unrest' tour with the mighty LAMB OF GOD and POWER TRIP! Respect!"
Helaas doet de thrashformatie Nederland niet aan bij de Europese tour begin volgend jaar.
Voor de gelegenheid is de video van Satan Is Real online gezet.